Everything in one app
Odoo is a state-of-the-art and fully integrated enterprise resource planning (ERP) system that covers all ERP business needs for small businesses, SME companies and global corporations
Odoo covers all ERP needs - just with one platform
Odoo covers all ERP needs - just with one platform. No several separate software interfaces are needed as all Odoo applications are perfectly integrated with each other. With Odoo all your business processes and financial management can be fully automated.
Perfect scalability and top-notch usability
As an open source software, Odoo is constantly evolving to provide you with the latest solutions. Business management applications are easy to use and they come in over 50 different language versions. Localization will go as smoothly as possible!
Käyttöönotto on nyt helpompaa kuin koskaan

Odoon lukuisat sovellukset saa käyttöönsä vain 20 € kuukausimaksulla. Skaalautuvuudensa ansiosta Odoo on helppo muokata juuri sellaiseksi, kuin itse haluaa. Odoon perussovellukset kattavat kaikki yrityksen tärkeimmät toiminnot.
Odoo on käytetyin avoimen lähdekoodin ERP-järjestelmä, jolla on maailmanlaajuisesti yli 7 miljoonaa käyttäjää.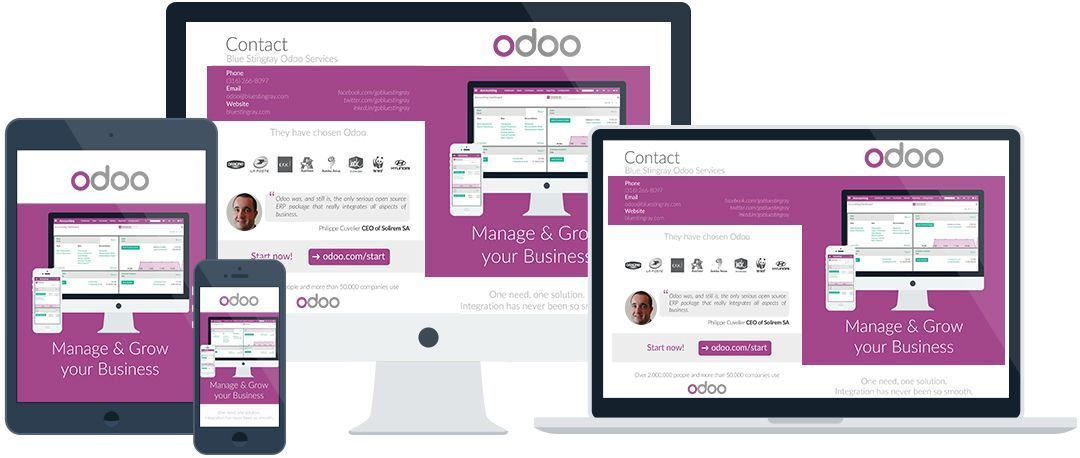 Tiesimme että "perälauta vuotaa", mutta miten ihmeessä voisimme tehostaa toimintaa, jos emme tiedä mikä kannattaa ja mikä ei? Nyt Odoon avulla voimme analysoida asiakas-, tuote-, kustannuspaikka- ja projektikohtaisia kannattavuuksia ja tehdä tarvittavat muutokset nopeasti.
Tarvitsimme ERP-työkalun, jonka avulla voidaan hallita tilaus-toimintusketjuumme sisältyvää suurta tietomäärää ja virtaviivaistaa liiketoimintaprosesseja. Odoon avulla voimme skaalata liiketoimintaa tavoitteidemme mukaisesti.
Odoo basic apps covers following sections:
Electronic Financial Management
Accounting, invoicing, bank connections, electronic invoicing, bank statements, purchase invoices, localization
Production and Operations
Purchasing, inventory management, production management, project management and quality management
Human Resources
Work guidance, assessments
Document Management
eDocuments & eSignatures
Marketing & Web
Marketing automation, inbound marketing, websites and eCommerce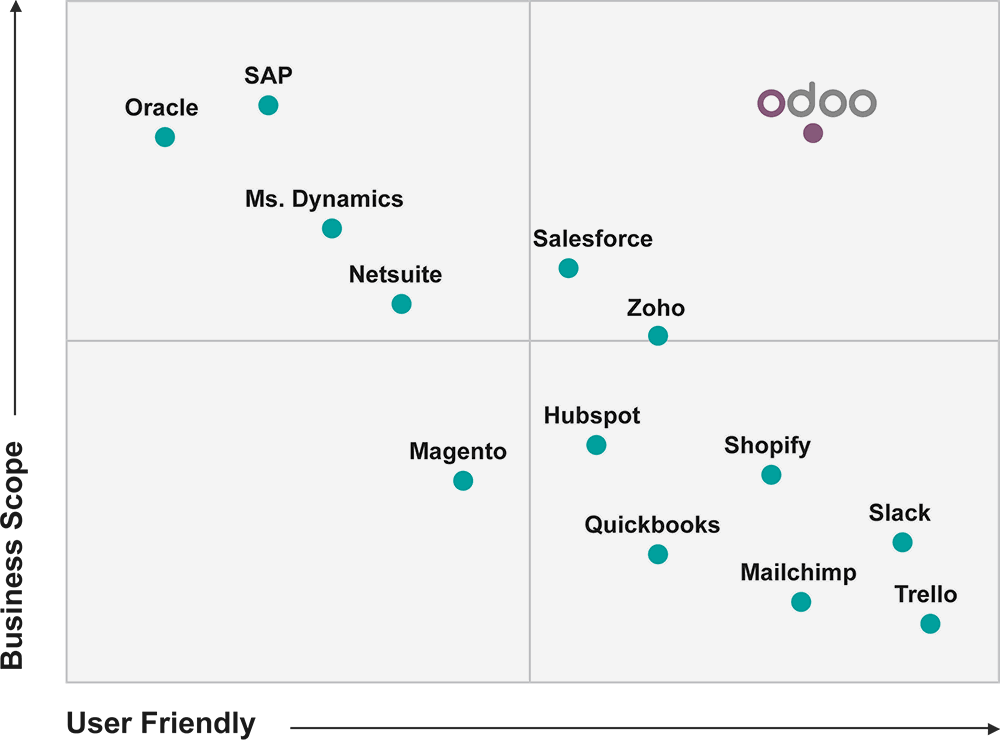 All you need
Odoo is the world's fastest growing ERP system, Its ease of use outperforms many solid and complex systems without sacrificing the scope of business software required.
Complete your ERP system with the features of your choice. In addition to these, there are also other applications to complete the package as required.
Watch the videos below!
Thousands of functions
Benefits of Odoo ERP
User friendly
Easy and quick to learn
Scalable
New applications available for all needs
Reporting
User-friendly dashboards and easy-to-edit reports
eBusiness solution
Papeless, modern model
Machine learning
Automated business processes and automation for financial mangement
Fast deployment
Standard model for fast production
Odoo ERP consist of separate applications that work seamlessly together. Whether you are a start-up entrepreneur, a growth seeking SME or a large company looking for a scalable and efficient ERP system, Odoo has the solutions for your needs.

Choose the package that meets your needs from the packages below.
The ERP system can also be customized from the required applications, only 20 € / month, when you select any function individually. Functions can be selected as the need for different functions grows. Only the sky is the limit, as Odoo bends to the demanding needs of companies of all sizes.

We are happy to help you to choose the best Odoo ERP solution for your business.
Basic package
Sales: Sales
Electronic financial management: Accounting, invoicing, bank connections, electronic invoicing, bank statements, purchase invoices, localization
Production & Operations: Purchasing
2 days of training
1 user, additional users 18-22 €/mo
Additional apps from 8 €/mo
Extended ERP package
Sales:

Sales, CRM

Electronic financial management:

Accounting, invoicing, bank connections, electronic invoicing, bank statements, purchase invoices, localization


Production & Operations

: Purchasing, inventory management, project management
HR: Work guidance and monitoring
4 days of training
5 users, additional users 18-22 €/mo
Additional apps from 8 €/mo
Premium ERP package
Sales:

Sales, CRM

Electronic financial management:

Accounting, invoicing, bank connections, electronic invoicing, bank statements, purchase invoices, localization




Production & Operations

: Purchasing, inventory management, production management, quality management

HR:

Work guidance and monitoring, assessments
Dokument management: eDocuments, eSignatures
Marketing: Marketing automation
Web: websites, eCommerce
6 days of training
10 users, additional users 18-22 €/mo*
Additional apps from 8 €/mo*
*Customized offer is provided separately for larger companies
1000+
new customers monthly